Horse Checks page 2

Golden Pony Personal Checks
Pony Artistic Checks - Let this artistically interpreted personal check series inspire the stallion with in you. Each images was hand crafted to show the majesty of these wild animals. It is sealer to see why there is such a special relationship between human and horse.
---

Equestrian Jumping
Feel the power in these horses as the jump the course in our Equestrian Jumping Personal Checks. This series of pictures shows the strength, stamina, speed, and agility horses are known for. The equestrian riders also have to be completely in tune to the animal they ride for a successful event.
---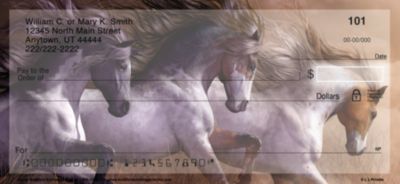 Equus Checks
Majestic Horse Checks Capture the Free Spirit of These Beautiful Animals with Laurie Prindle Art. The natural beauty of these free-spirited wild horses invokes the spirit and moves the soul.
---

Equestrian Checks
Click to see a cool set of Equestrian Checks and to read about dressage and the controversy surrounding its headgear.
---

Horses Up Close and Personal Checks
There's no better way to show off your love of horses than pay tribute to them with these beautiful horse personal checks. The grace and power that this animals exudes is felt with each of these beautiful bank checks. Coats of golden yellow and deep chocolate browns are captured in four close-up shots, sure to impress all horse fans.
---

It Is A Horse Race Checks
Giddy up! It is time to jump on the saddle and make your way to off to the races! These jockeys mean business and it looks like someone is about to cross the finish line. If you love a good horse race or just want to be reminded to Giddy up, then It Is A Horse Race Personal Checks are the ones for you!
---

Native American Art Checks
Personal connection to the earth and respect of mother nature embody the culture of American Indians. The captivating artwork found in these four checks display the close bond of American Indians to the earth. Intricate sketches and simple coloring create these stunning historical images.
---

Package Deal - Horse Country Checks, Cover, and Labels
What's Included: 1 Box of Checks (125 for Singles, 100 for Duplicates) 20 Deposit Tickets 1 Transaction Register 144 Matching Address Labels 1 Coordinating Leather Cover Free Handling (A $8.85 value) Trackable Delivery
---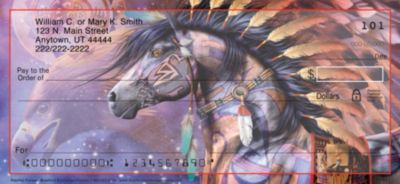 Painted Ponies - 4 Images
Artistic expressions of a beloved Native American culture fill us with wonder. Now, let the spirit of Navajo-inspired art move you every time you use these stunning Laurie Prindle checks from Bradford Exchange Checks. Showcasing the majestic artwork by artist Laurie Prindle, four colorful designs feature different images of painted horses adorned with feathers and paint to capture the beauty and spirit of Native American art with recreations of Ms. Prindle's Shaman , Canyon Dancer , Kiowa Gold and Dreamweaver .Plus, you'll find these Laurie Prindle personal checks are just as practical as they are mesmerizing. Brought to you exclusively by Bradford Exchange Checks, they're expertly re-created with premium-quality check printing. Be sure to jump on this amazing opportunity before these striking ponies vanish - get your Painted Pony art checks as soon as possible! Order now! Pricing shown is for 2 boxes of Singles.
---

Arabian Horse Portraits Personal Checks
Artistically portrayed, these Arabian Horse images create a powerful four check series, perfect for anyone who appreciate the beauty of the Arabian breed.