Horse Checks page 5

Horse Portraits Checks
Majestic and regal, the portraits of these beautiful horses are an uplifting addition to any wallet.
---

Horse Race
Horse racing is an old and classic sport. People are passionate and fanatic about them. Some adores it for the love of speed and the constant excitement that goes with it inside in the field. It is also considered the sports for queen and king.You can buy customized checks incorporating the image of horse racing in your personal checks. You can use these customized checks on all stores, markets and concern. They are accepted by different financial institutes and the Association for the American Bankers.The horse racing personal checks are fun and interesting reflection of the company profile. It is cost effective as well.
---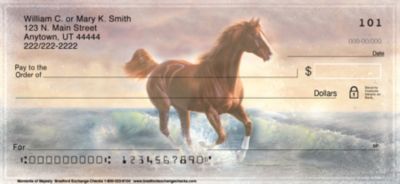 Moments of Majesty - 4 Images
Powerful stallions charge along the turbulent shores of a rolling sea, their muscled limbs reaching across crashing waves in perfect tempo. Now, the untamed power of the wild horse and the surging sea is harnessed in this extraordinary designer horse check collection! Famed wildlife artist and horse lover Chuck DeHaan captures every nuance of a wild horse's rippling muscles, flashing hooves, and free, exuberant spirit. Powerful, beautiful and alive with the glorious thrill of running with the sea spray in their flying manes, these horse checks by Bradford Exchange Checks will invite you to pause and catch your breath at the sheer beauty, majesty and spirit thundering in the horse's great heart. Moments of Majesty personal horse art check designs are available exclusively from Bradford Exchange Checks, and are expertly re-created with premium-quality check printing. Carry these exclusive designer horse checks with you and feel your spirit run free with the pounding rhythm of horse and surf. Order your Moments of Majesty personal horse check designs now! Pricing shown is for 2 boxes of Singles.
---

Mustang Horse
Wild American horses...
---

Spanish Mustangs Checks
These peaceful horses are ready to come with you wherever you roam! Majestic, swooping landscapes are the backdrop for these powerful wild horse personal checks. Spread the joy of riding with these fun horse checks!
---

Spirited Checks
These beautiful personal check designs show the spirit of the horse and the horseman as they begin to go out on a ride. Harness the power and the spirit of these lovely checks each time you open your checkbook!
---

Horse Enthusiast Personal Checks
The special bond you share with your equine friends is expressed with these beautiful photographic designs.
---

Horse Hair Texture Checks
Equestrians and horse lovers alike will adore this personalized check series of horse hides framed in designer borders.
---

Sunset In The Foothills Horse Checks
These lovely scenic designs feature a lone horse as he stands there soaking up the beautiful nature in the foothills. Share these breathtaking views each time you write out a Sunset In The Foothills Personal Check!
---

The Miracle Of Life Checks
Capture these precious images of a colt and his Mom and the beautiful and mesmerizing Miracle Of Life each time you write out one of these delightful personal checks!