Horse Checks page 6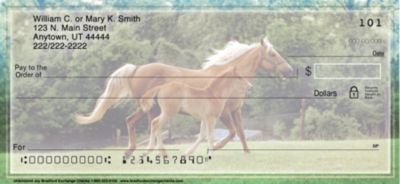 Unbridled Joy - 4 Images
The spirit of freedom runs wild in the hearts of horses! Join them and celebrate the Unbridled Joy of life with these handsome horse image personal checks, available exclusively from Bradford Exchange Checks. Four designs showcase stunning portraits of mother horses and their rambunctious colts and fillies, exploring the natural world around them and experiencing the simple joys of running through meadows of green grass and wildflowers. What a lovely - and practical - way to brighten your day!The Unbridled Joy designer personal checks are available exclusively from Bradford Exchange Checks, and are expertly re-created with premium-quality check printing. So go ahead, order personal bank checks online and soon the spirit of freedom will run wild through your own heart! Order your Unbridled Joy personal checks now! Pricing shown is for 2 boxes of Singles.
---

White Sunset Stallions
These majestic beasts are highlighted in the setting sunset for being the amazing animals that they are.
---

Arabian Horses Checks
Versatile and popular...
---

Black Stallions Personal Checks
The majestic black stallion isn't just a workhorse, he's a work of art! For exactly this reason we decided to create a check series around him! These beautifully captured photographs make our black stallion personal checks the ultimate tribute, and one of the most popular series in our entire horse personal check collection!
---
---

Foals And Mares Personal Checks
These adorable personal checks feature foals and mares as they are introduced to this earth. Watch them as they drink water from a river, learn to stand as they lean against their Mother or relax in hay in these intriguing and beautiful designs.
---

Horse Racing
The track is their gateway to speed and intensity and their stage for competition-where they race neck-and-neck and win by a nose.
---

Horse Silhouette Checks
Express your enthusiasm for horse riding with these attractive personal checks available only from CheckAdvantage!
---

Mystical Play Checks
---

Palomino Horses
Gold coat and white mane...