Horse Personal Checks page 7

Days End Checks
These personal checks are perfect for the horse lover! Each close-up photo captures the beauty of these magnificent creatures. Professional, lovable photos that will inspire you to get out there and start riding!
---

Early Morning Personal Checks
Early morning sunbeams create the warm glow found in these personal bank checks. In four varying images, horses are captured grazing on the ranch in the fog of the golden sunrise. Warm colors and majestic landscapes of American farmlands make this check set one of pure beauty.
---

Equestrian - Show Jumping
Horse lovers and equestrians alike will delight in this action filled personal check series.
---

Grazing Horses in Green Pastures
Graceful grazing horses of varied colors and patterns are seen peacefully meandering through their day in this personal check series.
---

White Stallions
Enjoy the power and majesty portrayed in the elegant lines of our White Stallions Personal Checks. This series features beautiful white horses in galloping action. Horses have the largest eyes of any land animal and have better memories than elephants. Man has been fascinated by the horse for millennia, Feel this fascination with White Stallions Personal Checks. Available in single and duplicate check format. Matching address labels and a coordinating checkbook cover are also available.
---

Wild And Free Fantasy Checks
These enchanting and colorful designs really capture the invigorating and fun loving spirit of horses as they run wild and free. The glowing shadows and images really show their unique spirit as they dance into the mountainside or run along a riverbank. These horses are inspiring and bring a lively spirit and wild and free fantasy to every check they grace. Giddy up!
---

Wild Spanish Mustang Checks
These free roaming wild Mustangs are free to explore the pages of this personal check series. Four images highlight the wonderment, beauty and majesty of these free rage wild horses that are waiting to trample off the pages.
---

Wild West Checks - 4 images
What's Included Per Box: 5 Pads of Checks 20 Deposit Tickets 1 Transaction Register
---

Arabian Horse Personal Checks
---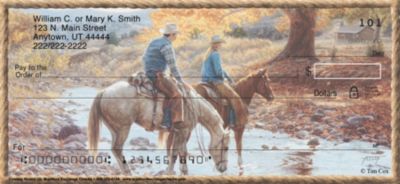 Cowboy Round Up - 4 Images
Honor the spirit of the West with these cowboy-themed check designs from Bradford Exchange Checks! Four breathtaking designs by award-winning artist Tim Cox showcase contemporary cowboys and their faithful best friends in action, as they explore, enjoy and work the range in these Cowboy Round Up checks. Plus, you'll find these Western art personal checks are as practical as they are inspiring. Brought to you exclusively by Bradford Exchange Checks, they're expertly re-created with premium-quality check printing. Don't miss this terrific chance to celebrate the American West - get your Cowboy Round Up horse themed checks as soon as possible! Order now! Pricing shown is for 2 boxes of Singles.