John Wayne Checks
A True Legend Lives On in these Dramatic John Wayne Personal Checks! In the pantheon of great Hollywood stars, one in particular stands out! Now you can honor the achievements of this bigger-than-life hero with John Wayne personal checks, available exclusively from Bradford Exchange. Four handsome designs showcase classic portraits of The Duke, captured in the magnificent Western settings that suited him so perfectly. From his timeless expressions to his trusty rifle and trademark hat and scarf, from the magnificent Rocky Mountains to stark desert canyons, these checks are an ideal tribute to a great artist, a great man, and a great American Legend - you'll be proud to use them every day!
---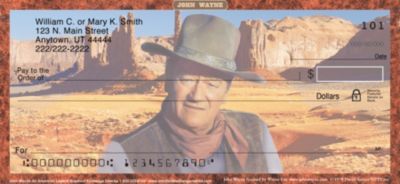 John Wayne: An American Legend Checks
Order now!
---
Choose from the menu at top right of page for many more horse and western themed personal check designs!